Cooperation in industrial production
Wide possibilities are at cooperation in the mechanical production especially in section of stainless and plastic materials. Production base facilities and technical background enables us to deliver complex services.
Our company is a holder of ISO 9001:2008 and ISO 14001:2004 certificates.
Material Preparation
Shearing
table shears thickness up to 16 mm, shearing 3 m
Cutting
circular saws up to Ø 270 mm of cut material
band saws up to Ø 500 mm of cut material
Plasma Burning – equipment for burning with plasma
stainless steel – max. Ø 1450 mm, max. length of the board 4000 mm, thickness of the sheet 60 mm
carbon steel – up to thickness of 350 mm
Shape Cutting
laser; 3,2 kW / sheet 2 x 4 m (stainless steel up to thickness of 12 mm, carbon steel up to thickness of 20 mm)
laser; 3,0 kW / sheet 2 x 3 m (stainless steel up to thickness of 10 mm, carbon steel up to thickness of 16 mm)
Boschert Twin – max. size of the board 3000 x 1500 mm, max. thickness of the sheet 4 mm
Shaping of Material
eccentric presses up to 160 tons
hydraulic press 250 ton screw
press 250 tons
Bending of the Metal Sheets – computer controlled bending press
length up to 4 m, max. thickness of bending material 12 mm
length up to 5 m / 250 tons
Punching
punching machine equipped with punches up to a Ø 50 mm of a hole
bigger diameters are produced as preparations up to Ø 85 mm
opening orifices in rows could be carried out in the press brake by stands
Cutting of Profiles
up to L profile 90/90 mm
Roll Bending of Profiles
100/16 mm from Ø 500 mm
35/35 mm from Ø 600 mm
Dulling
up to Ø 50 mm
the presses are equipped with a series of pressing fixtures
parts up to measurements of 1600 x 1000 x 590 mm can be thermally processed in the electric furnace, with automatic heat control
CNC Controlled Machine Tools
MASTURN 54 CNC 1500
machines frontal and internal surfaces (circulating Ø: over the bend 540 mm, over the transverse support 350 mm; max. mechanised Ø 500 mm, number of tools 8)
TCH 500PRIME/80
machines the part from the blank and from a bar, external and internal surfaces cylindric, conical and round; milling, splining and drilling of threads (max. machined Ø 615 mm, max. machined bar Ø 80 mm; max. lenght of spindle 1150 mm, number of tools 12)
MCFV 1260 STANDARD
high productive equipment for complex chippy machining in three vertical coordinate axis (X 1270 mm, Y 610 mm, Z 760 mm); working surface 1450 x 590 mm
Boring Machine VHN 13.42
coordinate axis X 2000 mm, Y 2000 mm, Z 2000 mm
Other Machine Tools
Revolver lathe R5
Cutters
FGV 32 – measurements of the bench 1250 x 320 mm, travel 520 mm
FA5 84 – measurements of the bench 2000 x 450 mm, travel 500 mm
slotting FNS 36/500 – meas. of the bench 1250 x 300 mm, travel 500 mm
Horizontal Boring & Milling Machine
VD 160 (axis X 3150 mm, Y 1600 mm, Z 2500 mm)
V 100 (axis X 1250 mm, Y 900 mm, Z 1120 mm)
Radial Drilling Machine
VR5A – Ø 50 mm, travel 870 mm, MORSE 5
VR4A – Ø 50 mm, travel 1060 mm, MORSE 4
V520A – Ø 20 mm, travel 620 mm, MORSE 3
Surface Grinding Machine
BPH 20 – clamping face 200 x 630 mm, travel 350 mm
round grinding machine BHU 40 – grinding Ø 400 mm, length 1500 mm
round grinding machine BUT 63/4000 – grinding Ø 850 mm, length 4000 mm
Hobbing Machine
OFA 32A – largest modul 7, Ø 320 mm, travel 250 mm
F O6 – largest modul 6, Ø 600 mm, travel 280 mm
Balance AM 1000 W – balance to weigh parts up to 1000 kg, max. Ø 1000 mm, length 4000 mm
Manufacturing
Welding
by means of electrode or using technology MIG, MAG, TIG
welding of carbon steel, stainless steel, aluminised steel etc.
all stainless welds will be etched on the surface for proper outlook
welding of rotating parts using CO2 (max. Ø 800 mm, weld up to V 30)
high quality of welding personnel was proveded in acc. with certif. ČSN EN ISO 3834-2:2006
Pipe Bender
jigging equipment up to Ø 108 mm pipe
hand cutter of sheets up to a thickness of 20 mm
semi-automatic equipment for polishing fittings, other equipment for fitter work
Roll Bender of Sheets
max. thickness of sheet 12 mm, max. width 2500 mm
Injection Moulding Machines for Plastics
cutting, shearing of plastic material (PP, PE, PVC atd.)
equipment for fusion welding even for welding with filler material
Services
Plating
zinc plating, nickel plating, chrome plating, hard chrome plating, blacking or electro-polishing
max. measurement of the parts:

nickel and zinc plating – 1000 x 600 x 100 mm
chrome plating – 500 x 400 x 100 mm
chemical nickel plating – 500 x 300 x 100 mm
Powder Coating
pulverization on line or in an individual cabin
max. measurements of the unit: l = 600 mm, w = 1100 mm, h = 900 mm
Paint Shops
ordinary paint work, painting of all products made by KOVOFINIŠ
---
Control and visualization systems - Automation
Full automatic program control of technological processes.
Automatic regulation of:
temperature
current
levels
dosing
movements and lifts etc.
Visualization of technology process
on PC monitor or touch screen near the device or remote workplace:
display of equipment operation
fault warning
data recording and storage, parameters statement and print
actual parameters statement (print) as well as the reverse statement for the queued protocol
different access level - access password
Data record:
goods record
event record
operation record
---
Service
We provide after-sale service for all installed plants:
Service includes complete care of the installed equipment and preventive maintenance inspections
Assistance during the production start-up
Regular equipment inspection to keep high operation life-time
Service on demand including 24-hours intervention
Consulting
Our experts are ready to provide their knowledge to resolve customer's questions in surface treatment and waste water management.
We offer our full help in dealing with government and environmental authorities during approval procedures.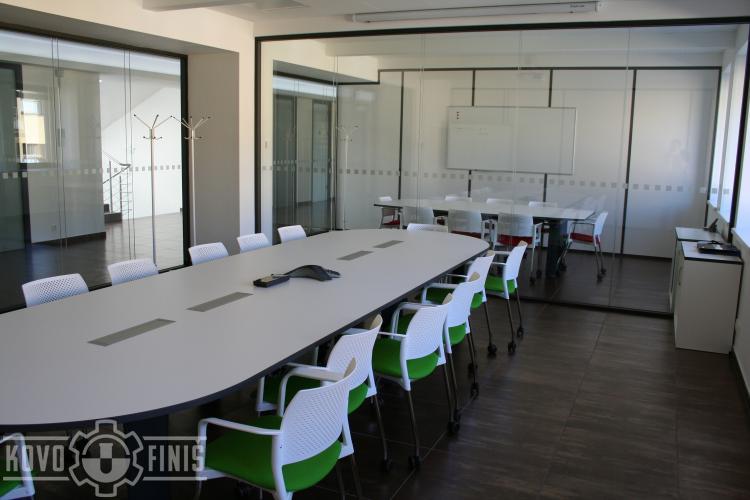 ---
Welding school
We run our own welding school, unfortunately the lectures are held only in Czech language.
---
Electroplating line
Technological workplace for electroplating enables us to implement testing a surface treatment technology development. We can provide our customers with samples of surface treatment on their own goods to see the quality of our technologies. We offer our customers to work with us on developing new surface treatment technologies.
We are ready to provide zinc plating, nickel plating, electrochemical brushing of stainless steel and iron bluing. We can provide samples of zinc plating, copper plating, nickle plating and chromating in our research laboratory. We are willing to offer samples of other less common surface treatment methods not mentioned above.
Zinc plating
blue chromate, yellow chromate
barrel: mass production
rack: max size of goods 1300 x 700 x 200, max weight of goods 100 kg a piece
Nickel plating
barrel: mass production
rack: max size of goods 1300 x 700 x 200, max weight of goods 100 kg
chemical nickel plating: max size of goods 400 x 400 x 400, max weight of goods 20 kg a piece
Electrochemical brushing of stainless steel
max size of goods 1500 x 600 x 200, max weight of goods 50 kg a piece
Iron bluing
max size of goods 1300 x 600 x 200, max weight of goods 120 kg a piece
Rack and mass production zinc plating
max size of goods 1200 x 350 x 650 mm
Rack and mass production copper plating, nickel plating and chromating
max size of goods 1200 x 350 x 650 mm
Contact:
Jaroslav Jelínek
e-mail: galvano@kovofinis.cz
---
Powder paint coating line
Our own powder paint coating line is equipped with
Surface pretreatment section (degreasing, phosphating, rinsing)
Powder paint coating section
Drying section
Hardening section
Thickness of coated layer is 80 micrometers (120g/m2)
---